Seasonal Interior Updates: Refreshing Your Space with the Changing Seasons
Seasonal Interior Updates: Refreshing Your Space with the Changing Seasons ===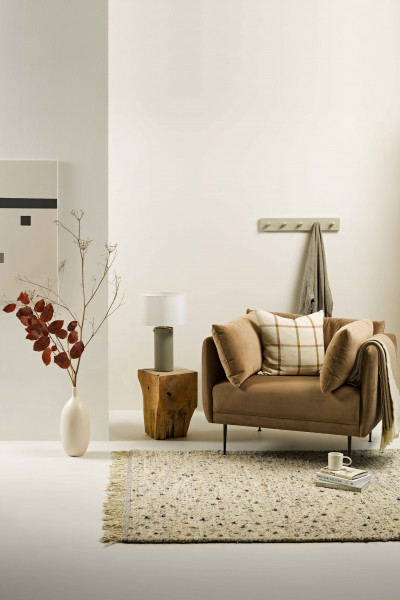 As the seasons change, so do our moods and preferences. Just like we update our wardrobes, our interior spaces also deserve a seasonal refresh to reflect the shifting atmosphere. The importance of seasonal interior updates goes beyond aesthetics, as they play a vital role in creating a harmonious and comfortable environment. By adapting your space to the changing seasons, you can enhance your overall well-being and create a sanctuary that reflects your personal style and embraces the beauty of each season.
The Importance of Seasonal Interior Updates
Seasonal interior updates are not just about keeping up with the latest trends; they serve a more profound purpose. Our surroundings have a significant impact on our emotions and overall well-being. By incorporating seasonal updates, you can create a space that feels both refreshing and comforting. For example, during the summer months, bright and airy interiors can evoke a sense of relaxation and rejuvenation, while warm and cozy elements during winter can make you feel snug and content.
Moreover, seasonal updates allow you to connect with nature and bring the outdoors inside. By incorporating natural elements such as plants, flowers, or even changing your color scheme to match the season's palette, you can foster a sense of harmony with the surrounding environment. This connection with nature has been proven to reduce stress and improve mental health, making seasonal interior updates a valuable investment in your overall well-being.
Key Tips for Refreshing Your Space
When it comes to refreshing your space with the changing seasons, there are several key tips to keep in mind. Firstly, consider adjusting your color scheme to reflect the season's mood. For example, vibrant and bold colors work well during the summer, while earthy tones create a cozy ambiance during autumn. Additionally, experiment with different textures and fabrics to add depth and warmth to your space.
Furthermore, changing your accessories and accents is an effective way to update your space without a complete overhaul. Swap out your throw pillows, curtains, and rugs for ones that reflect the season's aesthetic. Introducing seasonal decor elements such as seashells during summer or pinecones during winter can also add a unique touch to your space.
Another important aspect to consider is the lighting. Adjusting the lighting in your space can drastically alter its ambiance. During the summer, embrace natural light by keeping your curtains open and letting the sunlight flood in. In contrast, during winter, opt for warm and dim lighting to create a cozy and intimate atmosphere.
Embrace the Changing Seasons with Style
Embracing the changing seasons with style means incorporating elements that reflect the essence of each season while staying true to your personal style. Start by decluttering and organizing your space to make room for new additions. This will not only create a clean and fresh canvas but also allow you to showcase your seasonal treasures.
Consider incorporating seasonal scents into your space. During spring, fresh floral scents can invigorate your space, while warm and spicy scents can create a cozy atmosphere during winter. Candles, diffusers, or even fresh flowers can add an aromatic touch that enhances the overall sensory experience.
Lastly, remember to think beyond aesthetics and prioritize functionality. As the seasons change, so do our needs. During the summer, focus on creating a space that encourages relaxation and entertainment, while during winter, prioritize warmth and comfort. By adapting your space to meet your seasonal requirements, you can ensure that it remains a functional and inviting sanctuary throughout the year.
Try a Spring Reboot With so many of us spending time indoors it39s the perfect time for a spring design refresh to add a new perspective and lighter brighter tones to your home Read on for designer tips on affordable ways to bring a new look to your indoor spacesJuly 3 2020 saltdesignco Whether increased athome time has you feeling tired of your interior decor or the start of summer has spurred your creative juices maybe both now is a great time to freshen up your space1 Fall Porchscapes Designer Margarita Bravo predicts porchscapes are going to be the hottest trend of the season Elaborate fall front porches have been on the rise over the last few years often decorated with pumpkins corn stalks mums and other colorful seasonal propsThe changing Seasons are a great time to adjust and
freshen up your decor But in order to maintain a sophisticated welldesigned home its important not to overdo it We recommend picking a few key places where you can add or remove seasonal home décor for example instead of loading up every single corner of the roomUpdated on June 17 2022 Photo Jay Wilde Showcase the season39s most beautiful colors textures and foliage in your home39s living room Add these indoor fall decorations to your coffee table fireplace mantel window ledges and more for a cozy autumninspired living space 01 of 16 Farmhouse Fall Living Room Werner StraubeThe ushering in of spring on Tuesday may have gone unnoticed due to the lack of a proper winter in many regions of the US but it is here nonetheless And with the change in Seasons comes longer days outdoor dining
blooming flowers and an opportunity to renew and refresh your space Take a break from preparing taxes and consider these 10 tips for reviving your abode and please share your 8 Festive Fall Table Decor Ideas 23 Pretty Spring Centerpieces and Floral Arrangements 22 Festive Fall Front Porch Ideas for a Welcoming Autumn Look 13 Christmas Front Porch Ideas to Welcome the Season with Style 7 Updates You Can Do Now to Prepare Your Home for the Holidays 19 Gorgeous Fall Centerpiece Ideas that Are Easy to ReCreateSeasonal decorating is all about making relatively minor decor changes in your home in order to complement each passing season Its a simple fun way to breathe new life into your living space on a regular basis and Im going to show you step by step how to master this designerapproved
technique Find your foundation
Seasonal interior updates are an opportunity to breathe new life into your space and embrace the beauty of each season. By incorporating key tips such as adjusting your color scheme, changing accessories, and considering lighting, you can refresh your space with ease. Embrace the changing seasons with style by incorporating elements that reflect your personal taste while staying true to the essence of each season. Through these updates, you can transform your space into a haven that not only looks beautiful but also enhances your overall well-being.