Outdoor Lighting Magic: Illuminating Your Nighttime Landscape
Outdoor lighting plays a crucial role in creating a mesmerizing nighttime landscape that not only enhances the aesthetic appeal of your property but also provides safety and security. With the right lighting fixtures and design, you can transform your outdoor space into a magical oasis that can be enjoyed day and night. This article will explore the importance of outdoor lighting, how it can enhance your nighttime landscape, and provide a comprehensive guide to choosing the right outdoor lighting fixtures.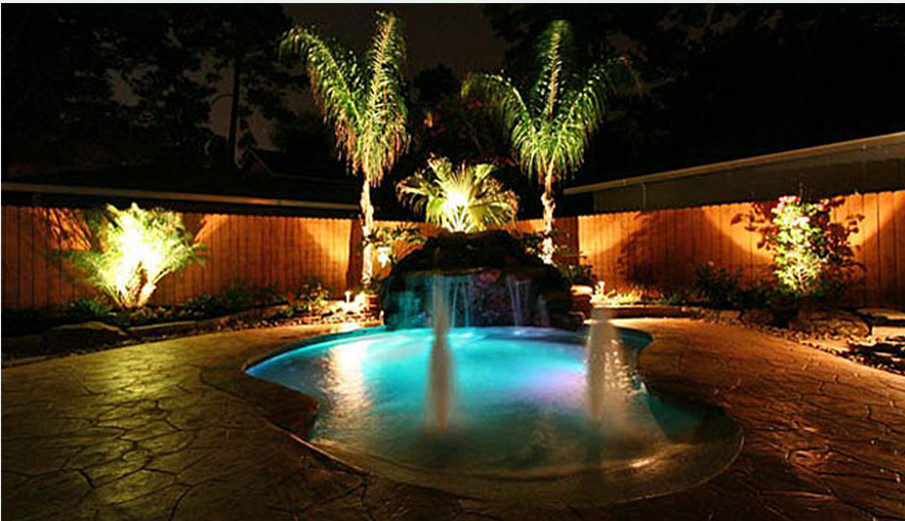 The Importance of Outdoor Lighting
Outdoor lighting serves various purposes, making it an essential element in landscape design. One of the primary benefits of outdoor lighting is safety. Illuminating pathways, steps, and entrances ensures that you and your guests can navigate your property safely after dark. Additionally, well-placed lighting can deter potential intruders by eliminating dark hiding spots around your home.
Another crucial aspect of outdoor lighting is its ability to enhance the beauty of your nighttime landscape. Lighting fixtures create a captivating ambiance and highlight the architectural features, plants, and focal points of your outdoor space. By strategically placing lights, you can accentuate the unique elements of your landscape design, such as water features or sculptures, and create a visually stunning atmosphere.
Enhancing Your Nighttime Landscape
When it comes to enhancing your nighttime landscape, outdoor lighting offers endless possibilities. Start by identifying the focal points or areas you want to showcase. This could be an exquisite tree, a beautiful flowerbed, or a well-manicured garden. By illuminating these features with spotlights or uplights, you can draw attention to their natural beauty and create an enchanting ambiance in your outdoor space.
Consider incorporating different layers of lighting to add depth and dimension to your nighttime landscape. Use path lights to guide your guests through your garden or along walkways, while adding a warm and inviting glow. Install step lights to ensure safe passage on stairs and ramps. Wall-mounted sconces can create a soft, diffused illumination, perfect for highlighting architectural details or creating a cozy atmosphere on patios or decks.
A Guide to Choosing the Right Outdoor Lighting Fixtures
Selecting the right outdoor lighting fixtures is crucial to achieving the desired effect in your nighttime landscape. Firstly, consider the purpose of the lighting. Do you need bright lights for security purposes or softer, ambient lighting for aesthetic appeal? This will determine the type and intensity of fixtures you choose.
Next, consider the style and design of your outdoor space. Opt for lighting fixtures that complement the overall theme and architecture of your home. Traditional lantern-style fixtures often blend well with classic designs, while sleek and modern fixtures are better suited for contemporary landscapes.
Furthermore, it is essential to choose fixtures that are durable and weather-resistant. Look for materials such as aluminum or brass that can withstand the elements and ensure longevity. LED lighting is an energy-efficient option that provides bright illumination while saving on electricity costs.
When it comes to installation, consider hiring a professional electrician or landscape lighting specialist to ensure safe and proper installation. They can provide guidance on the ideal placement of fixtures and help create a customized lighting design that suits your unique outdoor space.
Solar Powered Landscape Lighting System Illuminating Your Outdoor Space by Lazy Pro on Jul 04 2023 Illuminate Your Garden The Benefits of Solar Powered Landscape Lighting Gardens are not just patches of land with plants and flowers They are beautiful spaces that can be transformed into enchanting havens especially when the sun goes downThe ones in the low wall lining each side of these steps are unobtrusive but provide sufficient lighting at night 2ink Studio Landscape Architecture Mixing things up Don39t limit your options when planning your lighting Sometimes combining different types of lighting works bestArchitectural Features Outdoor Landscape lighting can be used to highlight a wall for example by washing or grazing When a wide beam of light is aimed at a wall from a few feet away
it creates a wall wash A light used to graze a wall creates interesting highlights and shadows Both can accent nearby plantsThis collection of ten training sessions is a sequel to IES Learning Learn Night Light Course 1 It gets dark every night This collection of twenty training sessions provides the groundwork necessary for lighting professionals to create safe and pleasing night environmentsBlack Finish Favorites 12V LED 2700K Stepped Dome Path Light in Textured Black 27499 12V Louvered Deck and Patio Light in Textured Black 12999 12V LED 3000K Half Moon Deck Light Black 14499 12V Up and Down Accent Deck Light in Textured Black 15499For water features you can choose to have a big impact or a natural subtle lighting effect For the big impact position cool lights to light up and from
within the water For the natural effect use soft warm downlighting Outdoor lighting plays a big part in the overall look and feel of your front and backyardMay 23 2023 Its that time of year again Gardens terraces and yards are coming alive with greenery Outdoor furniture is being dusted off But dont forget the one thing you really need forEASY PROCESS Our night demos are quick easy and effective Youll enjoy the lights for a full week allowing you to see the profound difference Landscape lighting can make to your property 1 800 840777 Talk to a Lighting Demo Expert Today Call Us at 8008401777 or Fill Out the Form Below
Outdoor lighting has the power to transform your nighttime landscape into a captivating and enchanting oasis. By understanding the importance of outdoor lighting, exploring different ways to enhance your landscape, and choosing the right lighting fixtures, you can create a magical ambiance that will be admired by all. Take the time to plan and invest in outdoor lighting, and you will be rewarded with a stunning nighttime landscape that extends the usability and enjoyment of your outdoor space.